Software Development as a Service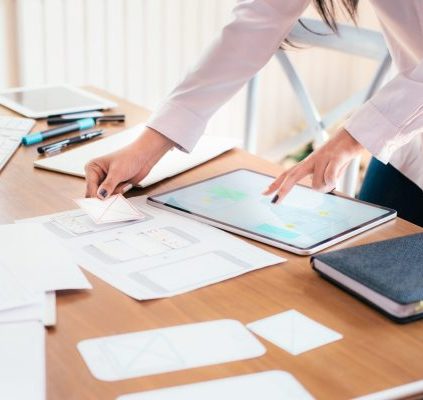 SDaaS stands for Software Development as a Service – a new form of service on demand for companies that currently lack capacities.
Software development as a service means that a developer or a team of experienced developers performs software development tasks as a service, on a monthly basis.
Covanlig offers businesses the short and long-term ability to transparently plan their technical capacities and easily forecast budgets using a monthly subscription-based pricing model.
As a so-called SDaaS provider, Covanlig offers you development services for various technologies. We plan according to your needs, finding the right subscription model for your business.
Depending on your subscription model, you can monitor your SDaaS activities 24/7 on your Covanlig Dashboard.
When is it time for SDaaS?
Do you urgently need support with software development?
You are currently investing non-existent time in endless recruiting processes?
You cannot find the right employees and cannot flexibly adapt your capacities to the epics and tasks?
Then SDaaS is a plannable and quickly deployable solution for you! With SDaaS, we offer you a cost-efficient cooperation model on demand.
Your advantages at a glance: 5 COres
Competitiveness: The fast and scalable use of resources with transparent costs enables an efficient cost-benefit ratio. You can remain competitive in the event of bottlenecks and even develop leads.
Competence: You can book the resources for the respective challenges without extensive recruiting processes. We advise you and analyse which core competences you are lacking and support you at short notice. Our team has many years of experience; know-how that is currently hard to find on the European labour market. Grow your Knowledge hub with our SDaaS.
Cost-Efficiency: On-site or hybrid solutions with permanent staff are expensive, as the pandemic has also brought massive changes to the labour market. There is a lack of capacities to keep performance high? Working remotely with our team of developers over years allowed us to create this SDaaS model for you, which saves up to 45% of the costs, especially in terms of recruiting and non-wage labour costs.
Collaboration (Agile): Our resources can be booked in various technologies. We follow agile development methods such as Kanban and Scrum together with our Best Practice. We take over your tasks and help to implement the right processes for you. You will be supported by our IT consultants and agile coaches throughout the partnership and subscription of SDaaS.
Comprehension: You can comfortably define the effort and scale SDaaS as needed. It is possible to mix different core technologies and book them additionally. We are happy to plan a kick off with you and help with the onboarding process.
Location-independent Collaboration
What does Covanlig offer?
Transparent, custom-fit solutions through agile development methodologies
Scalable, fast software development service
Legally compliant, secure SDaaS business model with a European contractual partner
Short-term access to qualified IT know-how
German IT consultants / agile coaches for long-term support of the cooperation
Up to 45% cost savings through elimination of recruiting and non-wage labor costs
"We offer a flexible, cost-effective, scalable business model for your current challenges. We have worked for years on this solution for you, so that resources are available to you at short notice and can be planned without lengthy recruiting processes or bureaucratic hurdles. Fair and success-oriented cooperation is our top priority. In other words: You are our priority!"
Your carefree package for your success
Creating stability, transparency and trust through reliable access to the required skills. We stand by your side as a European partner – no freelancers, no complex structures, no recruiting processes.
Unlike dubious fulltime freelancer structures, SDaaS ensures legally secured processes throughout all phases.
Scalability, Reduced Costs, Legal Compliance are seen as key benefits of SDaaS. C/OVANLIG extends your in-house capacities with our dedicated, remote team of professionals. 
1. Analysis of requirements
2. Communication
3. Cloud-based project management tools
4. Cloud-based time tracking software
5. Controlled cooperation thanks to clear distribution of tasks
6. Combination of process optimization support and ongoing support by agile coaches & IT consultants
7. Convenient best practice processes for a successful kick-off with SDaaS